Gold leaf highlights are quickly becoming one of the hottest trends in summer jewelry. You can find them everywhere from pendants to druzy earrings, even surrounding those lovely, miniature agate geodes we love so much on Etsy: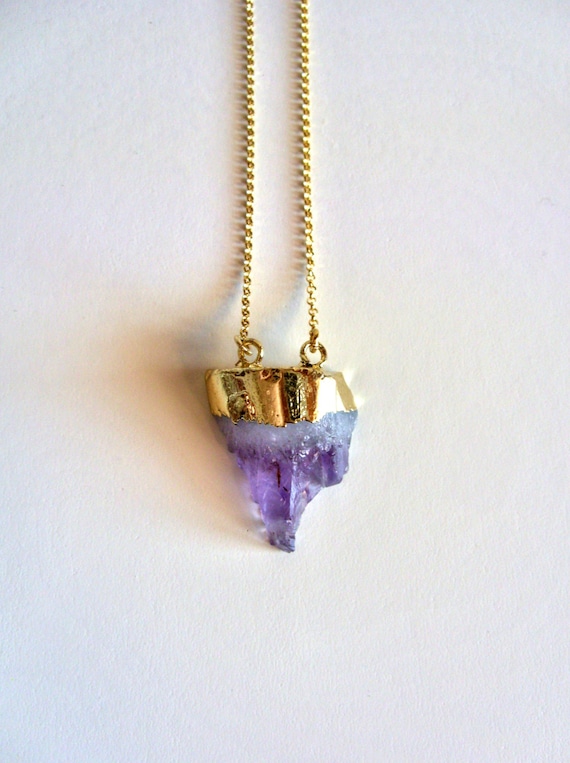 I really like the look of the popular gold-dipped crystals and pendants I found in this video:
But when I'm making jewelry at home, I only use cold connections for safety purposes. With my kids nearby at any given moment, I have to be extra careful that they don't get hurt on a piece of stray wire, let alone a smoking hot soldering iron! Thankfully, I found this video:
However, using
real
gold leaf presented the same problem. One sneeze and there's a blizzard of bling all over my dining room table. So, why not combine the two techniques and make it kid friendly? Ok, let's do it!!
For this super-easy project, you will need a
Krylon 18KT Gold Leafing Pen
(I found at Micheal's right below the gold leaf flakes), seashells, stones or any other found treasures, and a paper towel. To begin, follow the instructions on the pen, which is basically shaking the pen for a few seconds and pressing it down on a folded paper towel until the gold starts flowing. If you press too hard A LOT of gold will come out, so be careful. Unless you are going for a "gold-dipped" look, I would suggest a gentle touch. Now you are ready to select your first seashell!
Press the pen tip into the grooves of the seashell.
Try to keep the line of paint consistently thick around the edges.
Wait about 5 minutes between coats. The more you apply, the thicker it gets.
Be careful not to handle the wet surface for at least 30 minutes.
Wait 24 hours for it to be completely dry. (Seal the gold finish with clear nail polish for a lasting shine!)
Your shells are now ready to use in your favorite craft or jewelry projects! If you get messy, like I did, the gold washes easily off your hands with soap, water and a sponge. Enjoy!