"Cameras don't take pictures, photographers do.
Cameras are just another artist's tool."
I love this quote from Ken Rockwell.
I was browsing the web for helpful advice for how I could improve the photos in my Etsy shop when I found his article and the title was literally,
"Your Camera Doesn't Matter."
I had originally planned for this post to be a compilation of the top 5 cameras for Etsy sellers or something like that, when I realized that even if I went out and purchased a $3000 Canon right now, there would still be no guarantee that my photos would look like something out of a magazine. Plus, it would take me forever to figure out how to use the thing and all that time lost is time away from blog & jewelry business, which is a big no-can-do. When my kids are napping, I only have 2 HOURS. Period. Time is a precious commodity in my world. Like most of you out there, it is also something that I can't afford to waste.
Does it really matter how expensive or high-tech my camera is? No. My stash of equipment has ranged from a wind-up convenience store camera to an archaic floppy disk dinosaur. For the past ten or so years, I've been using my trusty Kodak 12 megapixel pocket cam. It fits in my purse, it's light, durable and when my son runs around the house shouting, "say cheese", it has proven to be indestructible.
In my past experience, through high school, college, internships and blogging for local non-profit arts organizations,
taking
good pictures is just another way of
making
good pictures. Whether it's a photo or a pencil sketch, the first step is
learning to see.
How can you learn to see?
Simple. Look for the most attractive feature of your item (i.e. the pendant) and bring out that beauty via a well composed, well lit photograph so that your viewers/customers can appreciate your work.
So, make friends with your camera, whether it's crappy or cool, remember it's just a tool. (The rhyme wasn't intended, but I couldn't resist!)
Just know, that even if all you have is cell phone,
work it
!
Here is an entire article
devoted to tips and tricks for making your cell phone pictures even better. So, don't worry. Your creativity will flourish within the constraints.
How to Improve Your Etsy Photos:
Create good compositions. Your photos set the mood for your shop. Avoid a ton of clutter and background fluff. Is it really necessary to photograph your knitted socks with a cactus, cup of coffee and a laptop? Which one are you selling? Make it clear to the consumer what they are purchasing. Your Etsy shop shouldn't be a page out of "Where's Waldo?" it's a catalog featuring your special talents. KISS (Keep It Simple Sweetheart!) Place your item for sale on a muted surface (wood, clean paper, marble slab, sand or a book page). Avoid using fabric. You might not see them at first, but there are specks of dust, lint and even wrinkles on the surface 99% of the time. Get close to your subject. Take multiple shots. And trust your eye. You'll know which pictures stand out from the rest when you upload them on your computer.
Use the Rule of Thirds. Imagine a grid of nine squares on top of your image. Instagram allows you to see this grid automatically when you upload a photo, but when you are on your own with your grandpappy's old Kodak from 1983, chances are...that grid isn't there. You may want to place your subject in any one of those squares, but the RULE is to place the focal points where the lines intersect. This article explains it all.
Use natural light. The sun is the best lamp in our solar system. Pure white light contains all the colors of the rainbow. When your handmade items are placed near a window or outdoors, the natural colors of your items can be seen in their truest form.
My Equipment:
My Kodak

A woven basket found at a thrift store

A sheet of paper I bought for $0.59 at Michaels

Various wooden surfaces: the floor, a tea tray, the lid to a cigar box, the tabletop

When my houseplants bloom or if I take cuttings from the garden, I'll use an occasional flower
My home studio is located on my dining room table. The patio window is right behind me, so I have the benefit of bright, brilliant sunlight from about 11am-4pm. In those few hours, I try to take as many photos as I can. On cloudy, overcast days however, I usually get nothing good out of a shoot. Getting it right is sometimes a waiting game. You're waiting for a quiet moment, for the kids to be asleep, for the clouds to move across the sun, for that second (or third) cup of coffee to kick in. If I am taking really close close-ups, I'll use a paintbrush instead of my hands to move the beads or claps into just the right place. You will find what works best for you with a little trial and error.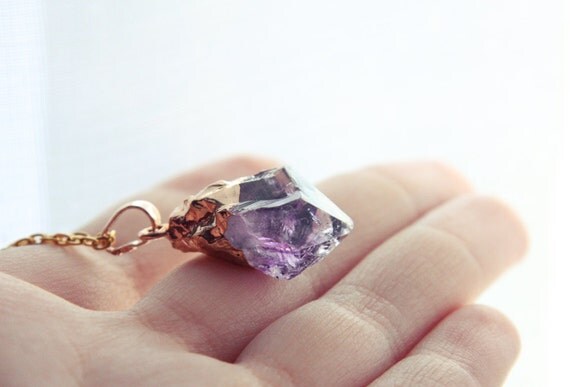 Beautiful amethyst pendant from Kiss the Future
While staging your Etsy shoot, please remember to NEVER...(if you can)...EVER...
Use the flash. Blaaarrrghh! This isn't 1920! If you don't have to burn out a lightbulb or place a hood over your head every time you take a photo, turn your flash off, please! It could create harsh reflections that change the look of your photo. White light is so fresh and airy, why not use it?
Place your items directly below an incandescent light such as a table lamp. This causes a weird yellow glare that smothers your subject matter like mustard on a soft pretzel. Yuck.
Be afraid to ask your friends to model. For the shy Etsy sellers out there, go ahead and take a leap of faith & friendship. You have a 50-50 chance of actually working with a model you already know and trust. "Hey, would you like to be featured on my Etsy shop?" You'd be surprised at the responses you'll receive!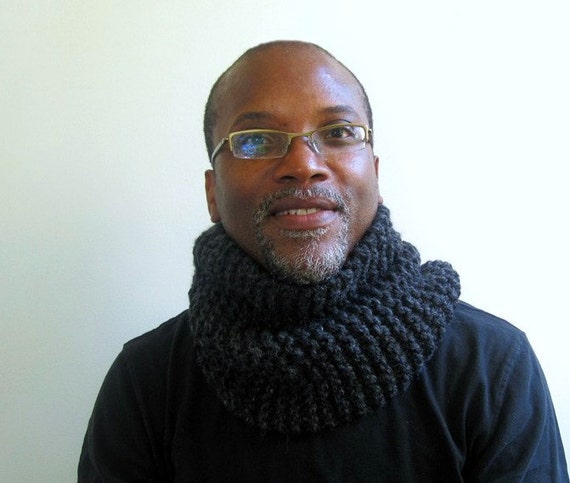 KerreraSkye uses a variety of models for her cowls. This guy could be a friend, neighbor, relative, coworker. Nearly every item has a different model. It almost makes it fun seeing the newest faces.
These earrings were photographed on the lid of my toolbox. The flower is from a spider plant I keep in the kitchen window. Since I used Bali beads in my jewelry, the idea was to bring a tropical flair to the image with a bit of foliage.
In the end, the most important thing to remember is to
keep trying
.
If your photo isn't working, start over. I am constantly doing research and keeping my eyes open for inspiration. I even started a Pinterest board called
P H O T O
just for organizing new ideas about how to photograph my jewelry. Also, when you are browsing your favorites on Etsy, jot down notes about what you like about the photos you see. Keep a journal. You should start seeing improvements in your work in no time!